In 1930 Vanderbilt achieved the pinnacle of yacht racing success by defending the America's Cup in the J-class 'Enterprise'. His victory put him on the cover of the September 15, 1930, issue of Time magazine.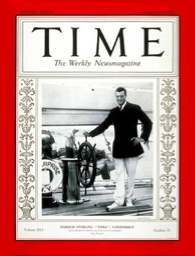 In 1934 he faced a dangerous challenger in Endeavour, as the British boat won the first two races. Vanderbilt came back in his yacht 'Rainbow' to win three races in a row and defended the Cup.

He than contacted Sparkman & Stephens to discuss the possibility of a new J Yacht under the Universal Rule. It was agreed that Starling Burgess and Olin Stephens would each present four designs and Vanderbilt funded the operation. The project that would eventually produce 'Ranger' and 'Lionheart' had started.